Originally published by InformationLiberation.com.
---
---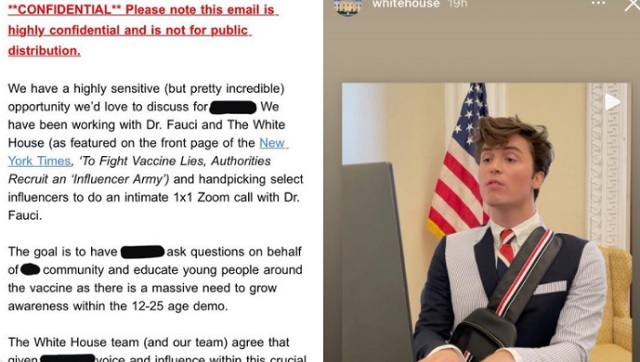 ---
The White House's recruitment letter sent to popular "influencers" on TikTok, Twitch, YouTube and Instagram asking them to shill Big Pharma's experimental injections to their child audiences has allegedly leaked.
From RT:
According to a "confidential" email sent from the White House to social media influencers, the Biden administration is seeking TikTok stars for "intimate" Zoom calls on Covid-19 vaccines with Dr. Anthony Fauci.

Joe Biden's administration has relied on celebrity influence to help in its promotion of Covid-19 vaccines to the public, and according to an email making the rounds on social media, the White House is seeking to target kids as young as 12 with the celebrity-led content.

NEW: I've obtained the *Confidential* White House PR email sent to TikTok influencers begging them to "do an intimate" zoom call with Dr. Fauci.

The goal is to influence children as young as 12.

How much did the White House pay for this cringe video? pic.twitter.com/OApHdHf5iR

— Benny (@bennyjohnson) August 10, 2021

In a screenshot shared by Newsmax host Benny Johnson of the confidential "White House PR email" sent to various TikTok influencers, the social media stars are told to "ask questions" to Fauci about the vaccines on behalf of communities.

"There is a massive need to grow awareness within the 12-25 age demo," the email reads.

The message ends by saying there are "only a few available slots." It is labeled as "not for public distribution."
The White House themselves released this propaganda video with a homosexual man with fake women's nails on shilling the experimental shots to children earlier this week:
Here is the video ICYMI:

— Benny (@bennyjohnson) August 10, 2021
As I reported last week, state governments are paying "influencers" $1,000 a month to shill the experimental injections to their child audiences.
The inventor of mRNA vaccines, Dr. Robert Malone, reported last week that a Boston court took custody of a Biotech exec's 14-year-old child in order to vaccinate them against their parents' wishes.
The Biden regime is encouraging Americans to rat on their friends and neighbors for signs of "extremism" and children are ratting out members of their own family for social media points.
hi mom remember the time you told me I shouldn't go to BLM protests bc they could get violent…this you? https://t.co/9ZkbAq0ehO

— Helena Duke (@duke_helena) January 7, 2021
for those that don't believe it's my mother… pic.twitter.com/jbSQysEZZ0

— Helena Duke (@duke_helena) January 7, 2021
Such is life under neo-Bolshevism.
---
Follow InformationLiberation on Twitter, Facebook, Gab, Minds, Parler and Telegram.
This post was originally published by InformationLiberation.com.
Founded in 2005, InformationLiberation is an independent news and commentary site dedicated to pursuing the truth wherever it leads, without apology and without care for being politically correct.