Originally published by InformationLiberation.com.
---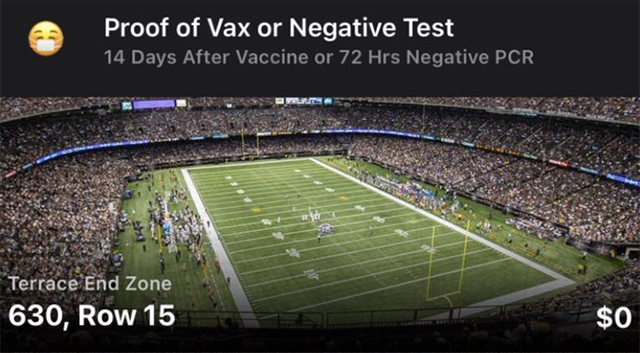 ---
The Saints are playing the first game in the NFL to require fans to be vaccinated or provide a negative PCR COVID-19 test. What has that done to ticket prices for Monday night? Driven them straight into the ground.
According to Darren Rovell, some tickets on the secondary market are selling for less than $1 before fees.
Saints tonight are first game from an NFL team requiring proof of vaccination or negative PCR test.

Secondary market has tickets available before fees for under $1. pic.twitter.com/W0q3ETDb1w

— Darren Rovell (@darrenrovell) August 23, 2021
As of this moment, StubHub has tickets for as cheap as $6. So, while it's not the lowest on the secondary market, they're still absurdly cheap.
This is honestly insane. Imagine taking your entire family to an NFL game for less than $20. Preseason games are always cheap, but they're not this cheap.
They're not this cheap at all. This is happening because of coronavirus restrictions.
If you're vaccinated, some sports games are apparently going to be shockingly cheap.
---
This post was originally published by InformationLiberation.com.
Founded in 2005, InformationLiberation is an independent news and commentary site dedicated to pursuing the truth wherever it leads, without apology and without care for being politically correct.