Note: This post was originally published by RT.com.
https://cdni.rt.com/files/2021.07/thumbnail/60f87b9f85f5406629382aa0.JPG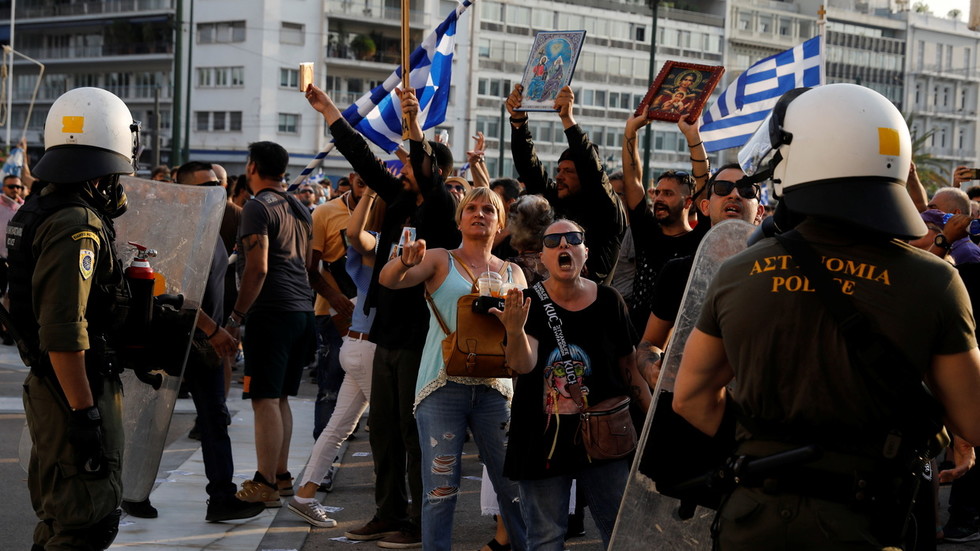 Police in Athens have broken up a protest outside the Greek parliament, using tear gas and water cannon to scatter the demonstrators. The protest was a response to the government's announcement of compulsory vaccination for some.
A crowd of more than 3,500 protesters gathered in Syntagma Square, outside the Hellenic Parliament in Athens on Wednesday. After being asked to leave, some of the protesters threw bottles and other projectiles at police officers, Greek news outlet Kathimerini reported.
The police responded with tear gas, flash grenades, and a truck-mounted water cannon. Videos shared on social media captured the crackdown.
Some of the protesters wore religious clothing and clutched icons, while others waved flags and handed out leaflets for right-wing political movements, according to another report from Kathimerini. Clashes were also reported outside the University of Athens, and in the northern city of Thessaloniki.
Similar protests broke out last week after Greece's government ordered the mandatory Covid vaccination of healthcare workers and nursing-home staff. Those who refuse the jabs can have their pay withheld, and the government has not ruled out extending the requirement to other workers in the fall.
Greece is not the only country to mandate that some of its population get vaccinated against the coronavirus. France and Italy have both introduced compulsory vaccination for healthcare workers, while the UK will soon require citizens to show proof of inoculation to enter nightclubs and other crowded social spaces.
As police officers dispersed the crowd at Syntagma Square, Greece's National Public Health Organization announced that 2,972 new cases of Covid-19 had been recorded in the preceding 24 hours, along with three deaths. Daily cases have risen substantially in Greece since early June, when most days saw less than 500. Deaths this month, meanwhile, are at their lowest levels since last year.
Author: RT
RT creates news with an edge for viewers who want to Question More. RT covers stories overlooked by the mainstream media, provides alternative perspectives on current affairs, and acquaints international audiences with a Russian viewpoint on major global events. With its first international news channel launched in 2005, RT is now a global, round-the-clock news network of eight TV channels, broadcasting news, current affairs, and documentaries, with digital platforms in six languages and sister news agency RUPTLY. Round-the-clock news channels in English, Arabic, Spanish, and documentary channel RT Doc, in English and Russian, broadcast from Moscow, while RT America airs from Washington, RT UK from London, and RT France from Paris. Today, RT is available in more than 100 countries spanning five continents.
© 2021, Z3 News. The first 200 words of Z3 News articles may be shared online in exchange for a clickable link to our site. Please include the author name and do not make any changes to text or titles. No image files from our site may be shared because we don't own them. For permission to use our content in other formats, please contact us.
If you found this post helpful, please consider sharing it with others by emailing the link or posting it on social media sites like Facebook, Instagram, Tumblr, and Twitter.
Donate to Z3 News. All major payment methods accepted.