Originally published by Healthimpactnews.com and shared in accordance with fair use terms for nonprofit educational purposes.
---
https://healthimpactnews.com/wp-content/uploads/sites/2/2021/11/Samaritans-Purse-Vaccine-Clinics-320x202.jpg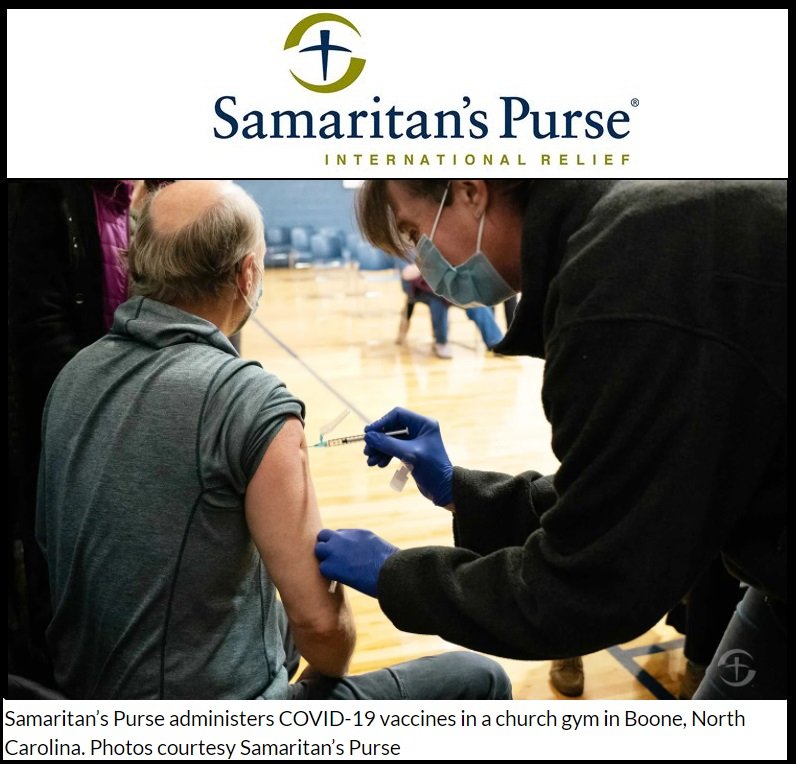 ---
This past March we reported that Franklin Graham, the president and CEO of Samaritan's Purse and the Billy Graham Evangelistic Association, told his 9.6 million Facebook followers that: "I think Jesus Christ would advocate for people using vaccines and medicines."
Franklin Graham was just released from the Mayo Clinic in Rochester, Minnesota, where he underwent heart surgery for pericarditis (inflammation and hardening of the sac around the heart that compresses the heart and prevents it from working properly,) a known side effect of the COVID-19 shots.
Members of his organization state that he just developed this condition within the "past few months," and that "he had been experiencing shortness of breath for some time."
He and his family are fully vaccinated against COVID-19. (Source.)
Samaritan's Purse CEO Franklin Graham has been released from the Rochester hospital where he recently underwent a successful specialized heart surgery. The 69 year old took to social media to share a new health update, wherein he also thanked the doctors and medical staff who attended to him over the past couple of weeks.

"Because so many of you have prayed, sent encouraging messages, and asked how I was doing, I wanted to let you know that I was released from Mayo Clinic in Rochester, MN, yesterday, after a specialized surgery last Monday," Graham wrote on his Facebook page.

He explained that the surgery was undertaken "to correct constrictive pericarditis (inflammation and hardening of the sac around the heart that compresses the heart and prevents it from working properly)."

As with his previous update, the Billy Graham Evangelistic Association CEO thanked the Mayo Clinic team for their "excellent care and expertise."

He added that according to doctors, the evangelist is "doing really well" and should be able to return to normal ministry activities after he has fully recovered. Meanwhile, Graham will continue to recuperate in the next few weeks and reassured his supporters that he is "feeling better every day." (Source.)
Franklin Graham's organization, Samaritan's Purse, raked in close to $1 BILLION in revenues in 2020 (just shy of $900 million), and they frequently partner together with the pharmaceutical industry and the medical system to administer COVID-19 shots and provide pop-up clinics.
In August, they constructed a field hospital in Jackson, Mississippi, to help inject people with COVID-19 shots, since vaccination rates in Mississippi were so low.
NIH Director Francis Collins, a devout Christian who has used his ties to the faith community to promote public health measures during the pandemic, said he regretted that pastors have faced "such a barrage of negative responses" from congregants.

"It's heartbreaking that it's come to this over something that is potentially lifesaving and yet has been so completely colored over by political views and conspiracies that it's impossible to have a simple loving conversation with your flock," Collins said in an interview. "That is a sad diagnosis of the illness that afflicts our country, and I'm not talking about Covid-19. I'm talking about polarization, tribalism even within what should be the loving community of a Christian church."

Biden administration officials have often talked up the role faith leaders could play in the vaccination effort. The White House Office of Faith-Based and Neighborhood Partnerships holds a call at noon every Thursday with faith leaders from across the country offering tips and sharing resources that can help them encourage people to get vaccinated, an administration official said. Collins has appeared with evangelical leader Franklin Graham to tout the safety and efficacy of Covid vaccines, and Biden has talked up vaccination during his Easter message and the National Day of Prayer. (Source.)
There can be little doubt that Franklin Graham, who inherited the Billy Graham Evangelistic Association Empire, and also runs Samaritan's Purse with branches all over the world, is a Corporate Globalist.
A look at Samaritan's Purse's financial disclosure IRS Form 990 shows that Mr. Graham makes over $700,000 per year of declared income, has 12 other people on staff that make more than $200K a year, has a private jet, and earned $8,286,443 in 2020 from "investment income."
With the world on lockdown in 2020 and many businesses failing, what kind of investment could return those kinds of yields? The main industry that saw record growth in revenues in 2020 under President Trump was Big Pharma, of course, thanks to Trump's CARE Act and other stimulus bills that transferred $BILLIONS from the wealth of the middle class in America to Big Pharma.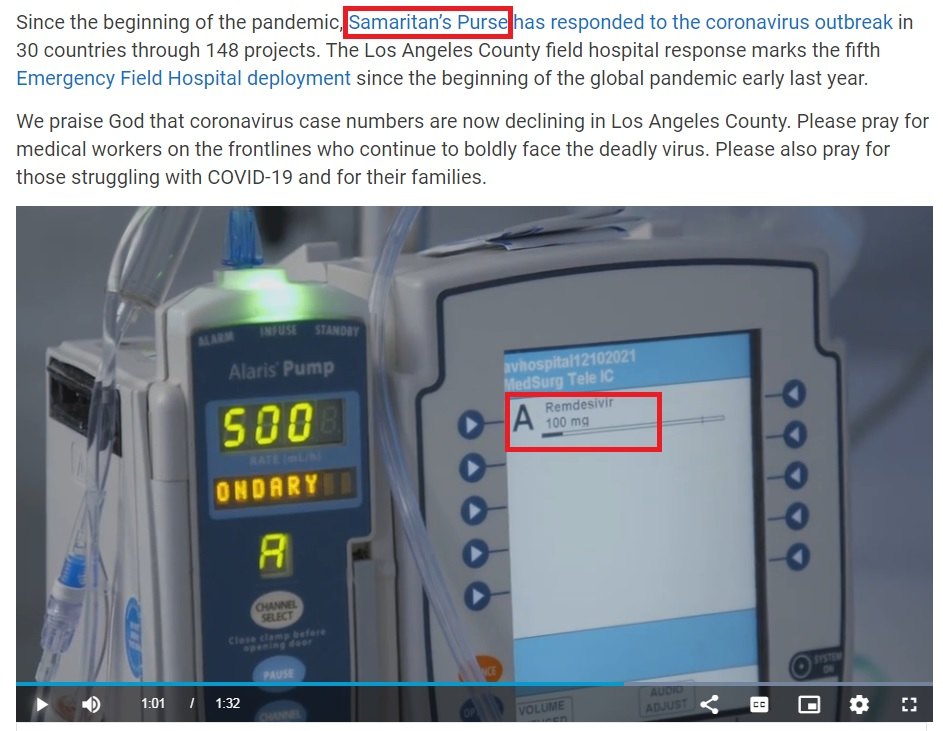 As you can see from this screen capture of a video shot inside one of their field hospitals, they are apparently treating COVID patients with the emergency use authorized new drug, Remdesivir, which now has been shown to kill 25% of the patients who take it, and costs thousands of dollars per treatment, even though there are less expensive, safer treatments that have been used to successfully treat patients by literally tens of thousands of doctors, such as Ivermectin and Hydroxychloroquine.
---
Originally published by Healthimpactnews.com and shared in accordance with fair use terms for nonprofit educational purposes.
Brian Shilhavy fights against globalist tyranny by publishing news stories sounding the alarm to expose evil schemes attacking our health on the site he founded, Health Impact News. Brian earned his Bachelor of Arts degree in Bible/Greek from Moody Bible Institute in Chicago, and his Master of Arts degree in linguistics from Northeastern Illinois University in Chicago.