This is an excerpt from a post published by Healthimpactnews.com.
---
https://healthimpactnews.com/wp-content/uploads/sites/2/2021/12/circulation-AHA-myocarditis-320x202.jpg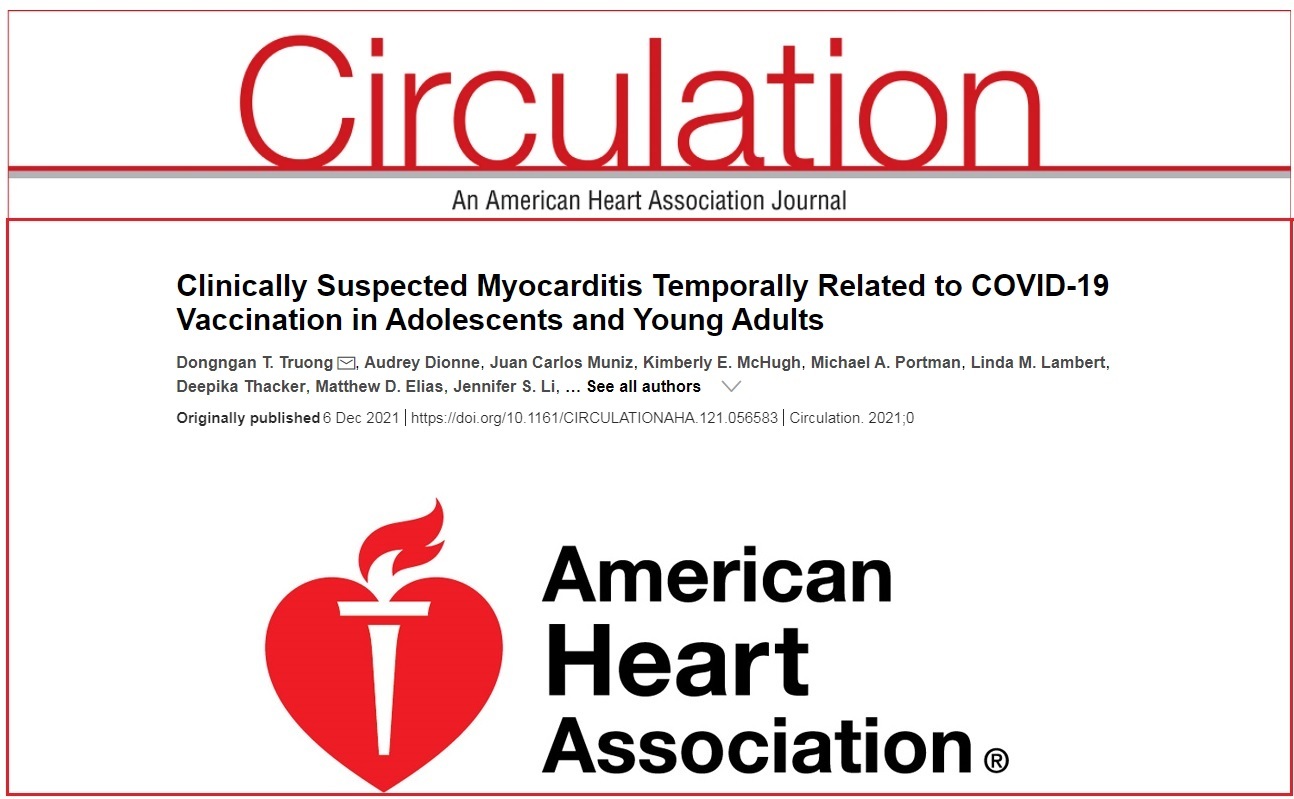 by Brian Shilhavy
Editor, Health Impact News
The American Heart Association's journal Circulation has published another abstract of a study with very alarming data on the effects of the COVID-19 experimental shots on heart disease in young people.
This follows their study published a few weeks ago by cardiologist Steven R Gundry. See:
The new study just published is titled:
It looked at cases of reported myocarditis in young people with an average age of 15.8 years old, and found that cases of myocarditis occurred in 136 patients (97.8%) following mRNA vaccine, with 131 (94.2%) following the Pfizer-BioNTech vaccine; 128 (91.4%) occurred after the 2nd dose. Symptoms started a median of 2 days (range 0-22, IQR 1-3) after vaccination.
Here is the full Abstract:
Conclusions: Most cases of suspected COVID-19 vaccine myocarditis occurring in persons <21 years have a mild clinical course with rapid resolution of symptoms. Abnormal findings on cMRI were frequent. Future studies should evaluate risk factors, mechanisms, and long-term outcomes. (Source.)
---
Continue reading the rest of this post at Healthimpactnews.com.
Brian Shilhavy fights against globalist tyranny by publishing news stories sounding the alarm to expose evil schemes attacking our health on the site he founded, Health Impact News. Brian earned his Bachelor of Arts degree in Bible/Greek from Moody Bible Institute in Chicago, and his Master of Arts degree in linguistics from Northeastern Illinois University in Chicago.