Originally published by InformationLiberation.com.
---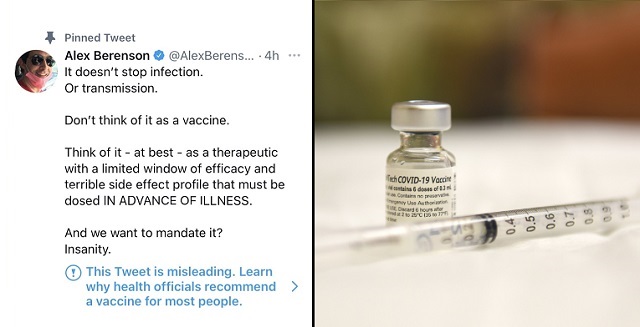 ---
Former New York Times reporter Alex Berenson revealed Saturday that he was perma-banned from Twitter for sharing "entirely accurate" information on the failure of Big Pharma's experimental shots.
"This was the tweet that did it," Berenson said on his Substack. "Entirely accurate. I can't wait to hear what a jury will make of this."
"It doesn't stop infection. Or transmission. Don't think of it as a vaccine," Berenson's tweet said.
"Think of it — at best — as a therapeutic with a limited window of efficacy and terrible side effect profile that must be dosed IN ADVANCE OF ILLNESS," he continued. "And we want to mandate it? Insanity."
Everything he said about it not stopping infection or transmission is straight out CDC Director Rochelle Walensky's mouth (though she claimed just the opposite a few months ago).
March 30th:
CDC Director Dr. Rochelle Walensky: "Our data from the CDC today suggest that vaccinated people do not carry the virus." pic.twitter.com/9W1SHecSEm

— The Recount (@therecount) March 30, 2021
August 5th:
"Our vaccines are working exceptionally well," CDC Director Dr. Rochelle Walensky tells @wolfblitzer. "They continue to work well for Delta, with regard to severe illness and death – they prevent it. But what they can't do anymore is prevent transmission." pic.twitter.com/s83YyBQqeh

— The Situation Room (@CNNSitRoom) August 5, 2021
The CDC even admitted efficacy was waning and is now pushing for booster shots (potentially every 5 months) despite no complete trials on their efficacy or side effect profile:
C.D.C. Director Rochelle Walensky claims there's a new scientific data term called -"hope." It's remarkable! She looks frightened. This is NOT ACCEPTABLE!!! There are no efficacy or safety studies on 3rd dose and the FDA & Vax Advisory Committee haven't even looked at the booster pic.twitter.com/AJZR5bYpQ4

— Carol Amato (@CarolCamaslp) August 27, 2021
WH wants boosters for all adults on Sept 20 because of Delta variant…CDC has hope, no data. pic.twitter.com/5HHYopXlzz

— Jefferey Jaxen (@JeffereyJaxen) August 24, 2021
It's worth taking a look back at how Democrats were allowed to trash the experimental injections back when Trump was still president.
So just 9 months ago Biden & the Democrats were saying they would NOT take the vaccine & didn't trust it… what changed? & why are they now forcing people who have the same reservation THEY were allowed to have 9 months ago, to take it? pic.twitter.com/ASflZ1KsCp

— Melissa Tate (@TheRightMelissa) August 24, 2021
Now, folks like Berenson and others are getting banned for simply citing governments' own data from highly-vaxxed countries showing all our hesitancy was entirely warranted.
We're witnessing the merger of state and corporate power into one unifying regime seeking to crush the American people and bring them under their total submission.
---
Follow InformationLiberation on Twitter, Facebook, Gab, Minds, Parler and Telegram.
This post was originally published by InformationLiberation.com.
Founded in 2005, InformationLiberation is an independent news and commentary site dedicated to pursuing the truth wherever it leads, without apology and without care for being politically correct.