This is an excerpt from a post published by Healthimpactnews.com.
---
https://healthimpactnews.com/wp-content/uploads/sites/2/2022/01/Jack-Thomas-ODrain-320x202.jpg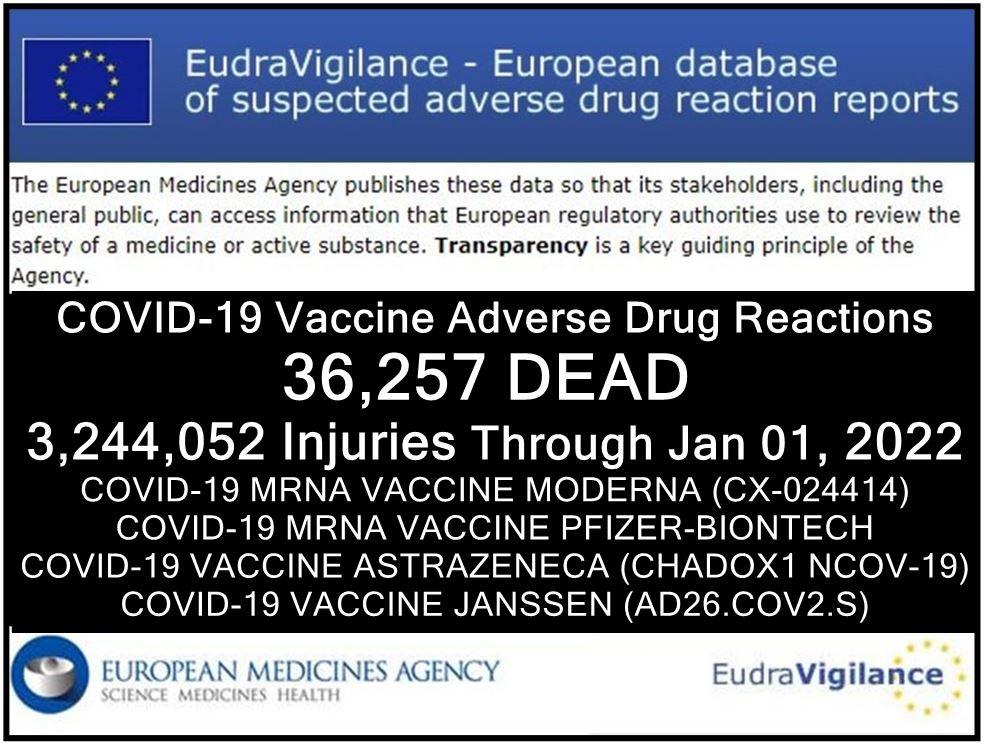 by Brian Shilhavy
Editor, Health Impact News
The European (EEA and non-EEA countries) database of suspected drug reaction reports is EudraVigilance, verified by the European Medicines Agency (EMA), and they are now reporting 36,257 fatalities, and 3,244,052 injuries following injections of four experimental COVID-19 shots:
From the total of injuries recorded, almost half of them (1,540,852) are serious injuries.
"Seriousness provides information on the suspected undesirable effect; it can be classified as 'serious' if it corresponds to a medical occurrence that results in death, is life-threatening, requires inpatient hospitalisation, results in another medically important condition, or prolongation of existing hospitalisation, results in persistent or significant disability or incapacity, or is a congenital anomaly/birth defect."
A Health Impact News subscriber in Europe ran the reports for each of the four COVID-19 shots we are including here. It is a lot of work to tabulate each reaction with injuries and fatalities, since there is no place on the EudraVigilance system we have found that tabulates all the results.
Since we have started publishing this, others from Europe have also calculated the numbers and confirmed the totals.*
Here is the summary data through January 1, 2022.
Total reactions for the mRNA vaccine Tozinameran (code BNT162b2, Comirnaty) from BioNTech/ Pfizer: 16,471 deaths and 1,546,829 injuries to 01/01/2022
42,225   Blood and lymphatic system disorders incl. 230 deaths
50,455   Cardiac disorders incl. 2,379 deaths
467        Congenital, familial and genetic disorders incl. 45 deaths
20,812   Ear and labyrinth disorders incl. 11 deaths
1,616     Endocrine disorders incl. 5 deaths
23,826   Eye disorders incl. 37 deaths
124,211 Gastrointestinal disorders incl. 652 deaths
386,451 General disorders and administration site conditions incl. 4,668 deaths
1,780     Hepatobiliary disorders incl. 83 deaths
17,061   Immune system disorders incl. 86 deaths
67,000   Infections and infestations incl. 1,769 deaths
28,457   Injury, poisoning and procedural complications incl. 302 deaths
38,560   Investigations incl. 487 deaths
10,496   Metabolism and nutrition disorders incl. 269 deaths
185,798 Musculoskeletal and connective tissue disorders incl. 204 deaths
1,451     Neoplasms benign, malignant and unspecified (incl cysts and polyps) incl. 136 deaths
255,661 Nervous system disorders incl. 1,756 deaths
2,254     Pregnancy, puerperium and perinatal conditions incl. 58 deaths
232        Product issues incl. 3 deaths
28,114   Psychiatric disorders incl. 193 deaths
5,594     Renal and urinary disorders incl. 258 deaths
59,397   Reproductive system and breast disorders incl. 6 deaths
66,518   Respiratory, thoracic and mediastinal disorders incl. 1,801 deaths
71,771   Skin and subcutaneous tissue disorders incl. 136 deaths
3,457     Social circumstances incl. 22 deaths
13,685   Surgical and medical procedures incl. 157 deaths
39,480   Vascular disorders incl. 718 deaths
---
Continue reading the rest of this post at Healthimpactnews.com.
Brian Shilhavy fights against globalist tyranny by publishing news stories sounding the alarm to expose evil schemes attacking our health on the site he founded, Health Impact News. Brian earned his Bachelor of Arts degree in Bible/Greek from Moody Bible Institute in Chicago, and his Master of Arts degree in linguistics from Northeastern Illinois University in Chicago.