This is an excerpt from a post published by Healthimpactnews.com.
---
https://healthimpactnews.com/wp-content/uploads/sites/2/2021/07/Public-Health-Scotland-Deaths-320x202.jpg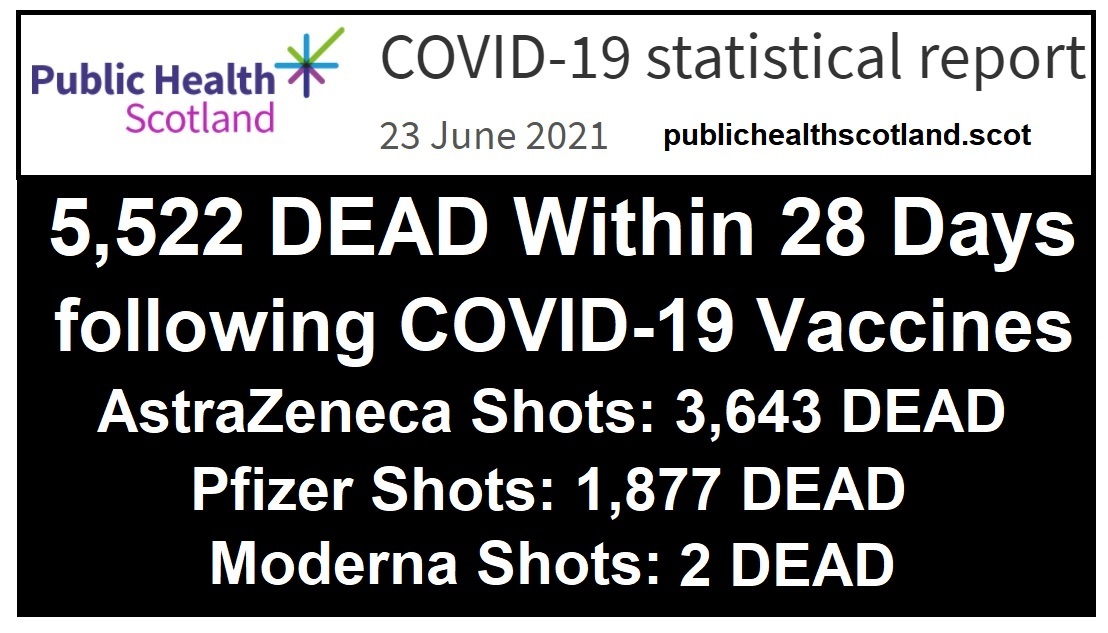 After 7 months of mass COVID-19 vaccination efforts worldwide, we are receiving more and more reports about just how severe the casualties have been from injecting so many people with these experimental shots, and the massive efforts of censorship to try and prevent the public from understanding the full scope of the deaths and disabilities these shots have caused.
Another report came to our attention today from Scotland, where Public Health Scotland apparently has responded to numerous freedom of information requests to provide data on how many people in Scotland have died within 28 days of receiving one of the shots, due to reports to their agency.
They published the results on their official COVID-19 statistical report page, where as of June 23, 2021 they report that 5,522 people have died within 28 days of receiving one of the COVID-19 injections in use within Scotland.
The total population of Scotland is about 5.5 million people.
The Daily Expose, based out of the UK, covered the story earlier this week. Using the same percentages as the statistics supplied by Public Health Scotland, based on the population of the UK, they state that would equate to about 57,470 deaths in the UK within 28 days of being injected with the COVID-19 shot.
For the population in the United States, that would equate to about 331,320 deaths within 28 days of receiving a COVID-19 injection.
Brian Shilhavy fights against globalist tyranny by publishing news stories sounding the alarm to expose evil schemes attacking our health on the site he founded, Health Impact News. Brian earned his Bachelor of Arts degree in Bible/Greek from Moody Bible Institute in Chicago, and his Master of Arts degree in linguistics from Northeastern Illinois University in Chicago.